House of Pots
House of Pots is an exhibition of contemporary ceramics in a Queen Anne townhouse in Chelsea, London. The exhibition provides the opportunity to see the wide range of contemporary works coming from use of different clays, different styles and different technologies.
Porcelain, stoneware and earthenware clays are represented. Styles include designs with crystalline, raku, celadon, slip and many unique handmade glazes. Wheel thrown, hand built and slip cast are some of the methods the artist use to create ceramic vessels and sculptures. Technologies used range from the traditional electric kilns, gas kiln and wood fired kilns to the cutting edge of digital technology, virtual reality and 3D clay printing.
The show is a great way to view contemporary ceramics in a domestic interior — and even better; a domestic interior in a 300+ year private home just a few doors from Carlyle's House.
Artists
The 34 artists working in clay range from established to emerging artists. Artists come from over a dozen different countries.  Most have studied at renowned art schools like The Royal College of Art, Central St Martins, and Goldsmiths where exposure to historic ceramics worldwide like French Porcelain have informed their practice.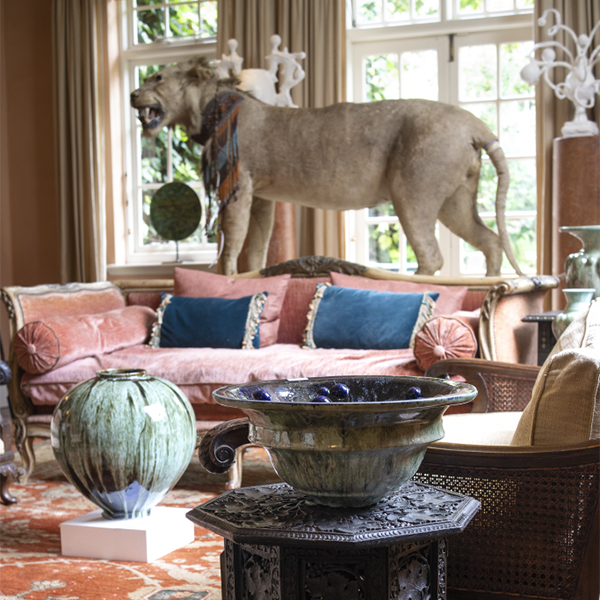 Exhibiting Hundreds of Works from 34 Artists
Alkesh Parma, Anna Barlow, Anna Silverton, Anne Athena, Carolyn Tripp, Dana Lazarus-Cass, Daria Coleridge, Diego Flauzino, Eugene Chung, Fran Silverton, Fred Gwatkin, Hannah Simpson, Helen Johannessen, Ian Thompson, Ikuko Iwamoto, Jaejun Lee, Jane Cairns, Jo Taylor, Josh Aubrook, Justine Alison, Kate Braine, Lauren Bauer, Luke Hamel Cooke, Malcolm Dickson, Mary O'Malley, Michel François, Nico Conti, Nino Sarabutra, Omer Oner, Rabya Alfadl, Ryan Barrett, Sue Gunn, Tanya Gomez, Tim Martin