We're excited to exhibit over three floors about 500 works of 26 artists:  Anna Silverton, Anne Athena, Carolyn Tripp, Cressida Collins, Dana Lazarus-Cass, Daria Coleridge, Emilie Coste, Fred Gwatkin, Gregory Tingay, Helen Johannessen, Henrietta Caledon, Ian Thompson, Ikuko Iwamoto, Jaejun Lee, Jane Cairns, Kate Braine, Lauren Bauer, Matt Horne, Matthew Warner, Michel Francois, Nico Conti, Oriel Zinaberg, Ryan Barrett, Sue Gunn, Tanya Gomez, Vezzini & Chen and Violante Lodolo d'Oria.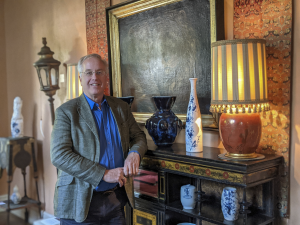 Thank you so much to the clients who joined us at this terrific exhibition in Chelsea and especially to the fantastic artists who exhibited: Anne Athena, Dana Lazarus-Cass, Daria Coleridge, Elin Hughes, Fred Gwatkin, Ian Thompson, Isabelle Nothombe, James Pegg, Jane Cairns, Jonathan Keep, Kate Braine, Michel Francois, Nico Conti, Robin Cawdron-Stewart, Ryan Barrett, Sally Tadayon Albemarle, Sevak Zargarian, Susanna Gorst, Tancredi Di Carcaci and Violante Lodolo D'Oria.

"House of Pots" is a contemporary ceramics exhibition in Chelsea, London displayed in a listed Queen Anne townhouse circa 1711. A group of established and emerging makers will be showing works in a domestic interior. The works are mainly functional in form and placed amongst antiques and contemporary furnishings. This curated show will take contemporary ceramics away from a white walled gallery and highlight them in  familiar surroundings.  A range of works in earthen ware, stoneware and porcelain will show a vast range of styles for any taste.
ADDRESS:  20 Cheyne Row, Chelsea London SW3 5HL
DATES:  8-17 October
TIMES: Open 12noon-6pm daily.  No appointment needed.   Please contact us if you want to come another time. Please email pfitzarts@gmail.com
WITH DEMONSTRATIONS AND TALKS
Preston is currently turning the spotlight on 3D clay printing where some talented artists are blending digital technology and their artistic craft skills to stretch what can be done with clay to create some truly mind-boggling new ceramics. At The London Design Festival, he brings together established and emerging artists using 3D clay printing to exhibit works worthy of collecting. Works range from functional wares to sculpture. Artists will also share their perspective on innovating one of the world's oldest art forms in on-line talks throughout the festival.
Makers in the exhibition are Jonathan Keep, Nico Conti, Michelle Shields, Heleen Sintobin, Ryan Barrett, Fred Gwatkin, Edgar Ward and James Rogers.
Location: 11 Avenue Studio, Sydney Mews, London, SW3 6HL Part of The Brompton Design District of LDF
Dates and Times:
Exhibition: Monday, 20 September to Sunday, 26 September; Hours: 11am to 6pm
Demonstrations and 3D clay videos will play through out the exhibition
On-line Talks: MONDAY 20 September 7-8pm; THURSDAY 23 September 7-8pm
EVENTBRITE Link to register for talks coming soon
 Founded in 2004 by the Crafts Council, Collect has established itself as the preeminent art fair for contemporary craft and design.
 I've worked with the Collect VIP programme to host virtual tours with a stunning group of specialist international galleries, showcasing works made in the past five years by living artists.
It's also been my pleasure to work with The Cynthia Corbett Gallery  by curating an exhibition to tempt you to acquire some of the exceptional pieces of work on display created by the highly talented artists like Amy Hughes above.
At a time when we are unable to come together at Somerset House in London, you can find works on the online art platform Artsy.net for exhibitors to showcase the works for sale from 26 February – 24 March 2021.
https://www.artsy.net/fair/collect-2021
https://www.thecynthiacorbettgallery.com/exhibitions/262-collect-2021/overview/